2018年8月17-19日由木成优主办,LUKOIL卢克伊尔总冠名、大庆加通、陕西智诚、中化蓝天、北京欧特隆联合赞助的2018年度润滑油行业品牌营销学术论坛在中国西安建国饭店成功召开!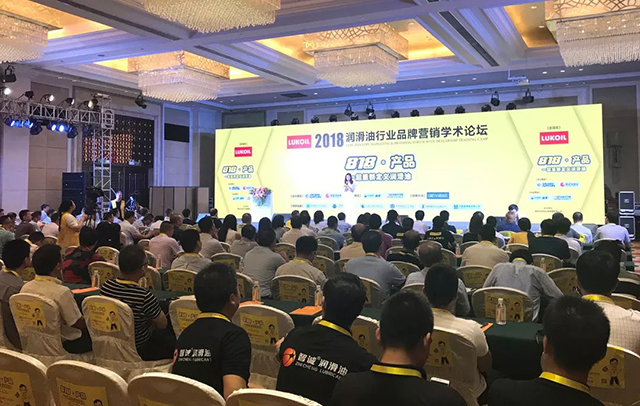 XI'AN, China – As the quality of lubricants in China continues to rise, competition among suppliers – especially of industrial lubes – is intensifying and pushing companies to offer value-added products or services, industry insiders said at an event here last week.
"I don't see demand for lubes in China growing significantly in the future, so lube companies need to explore areas outside of lubes to stay competitive," consultant Zhang Chenhui said at the Muchengyou Lubricant Marketing Forum.
As an example he cited Shunyi, a Zhuhai, Guangdong province-based lube supplier. The company, which started out as a distributor for multinational marketers, no longer labels itself as a supplier of only lubricants, but as an "industrial service provider" with additional products such as sealants and surface treatment agents, according to its website.
"The major job for Shunyi's sales team is not selling lubes, but offering a basket of value-added services including lubrication consulting and lubrication management. In short, it's not selling lubes but technologies," Zhang said.
Multinationals have also launched services specifically for China in order to attract big clients. Some address the trend that China is aggressively marching toward industry 4.0, with big manufacturers in various industries buying highly automated machinery.
In July, ExxonMobil updated the Chinese version of Mobil Serv, its global lubricant analysis service launched in 2016. In May, Shell launched Lube Master in Hangzhou, offering similar services. Shell expects Lube Master will attract 20,000 industrial clients by 2020.
Zhang said many state-owned manufacturers, such as wind turbine producers and makers of metal components, have already signed up for these services.
"Solution, rather than price, is the priority for clients to make a purchase decision," Zhang said. In China, he added, manufacturers usually have vague ideas about lubricant management, leaving opportunities to lube suppliers.
Zeng Xiang, general manager at Beijing ESCG Marketing Consulting, agreed with Zhang. He said Chinese industrial lubricant companies focus way too much on making connections with customers and waging price wars, whereas the core competitiveness for any industrial products should be technical marketing.
"Think about how your product will help clients cut costs and lower risks, and what your solution is for the life-cycle management of your clients' expensive devices," Zeng suggested, adding that clients are concerned about total ownership cost, not the price of a single product.
The lubricant market in China is segmenting and is expected to continue doing so. Thus, suppliers need to offer many niche products to gain significant market share, said Yang Zhaoping, sales director for vehicle lubes at the China subsidiary of Russian lube manufacturer Lukoil. For example, he noted that today's market has a variety of API SN SAE 5W-30 engine oils focusing on different needs - some for cars with electronic control units, others for cars with high horsepower.
"Indeed, not every API SN 5W-30 was born equal," Yang said. "Why and how? Check their specifications and you will find many small differences, such as kinematic viscosity. Making lubes is really not as simple as it seems."
He suggested that research and development programs closely monitor future engine technologies. For example, Nissan's newest variable-compression turbo engine uses a combined gasoline- and diesel-powered engine to improve fuel efficiency as well as horsepower. Such a unique power system demands engine oils uniquely formulated to withstand high pressures and temperatures, he said.
"There will be big changes in engine designs in the next 30 years," he added. "Lube suppliers need to get prepared for that."
When it comes to marketing, Zhang Chenhui suggested motor oil suppliers find opportunities to interact with end users. Checking in with repair stores is one good example.
"In a fast-changing, highly competitive, fragmented market like China, manufacturers must get first-hand knowledge about what is happening in the market, rather than relying on distributors as they used to do," he said.
Chinese automotive lubricant suppliers are used to waging a price war to improve sales, but in recent years the strategy was rewarded poorly. Zhang urged suppliers to change their mindset.
"Price war is obsolete. A lube company needs to work closely with distributors and even repair stores to figure out how to improve sales. It takes teamwork to win over customers," he said.